Do I really need to spend extra money on rental car insurance coverage? Despite being a very frequent traveler and car renter, I asked myself this question before my trip to Costa Rica. I pride myself in being an expert traveler who knows pretty much everything there is to know about travel, personal finance, credit, and loyalty programs. However, on this occasion, I had found myself scouring the internet and reaching out to friends and co-workers to understand the rules in Costa Rica. Since I wasn't able to find a reliable guide online, I had to put one together myself.
I started looking for a rental car online for a long weekend and found some insanely low prices that totaled $4 for 3 days at some companies. If this seems incredibly ridiculous to you, you're not alone; I couldn't believe my eyes!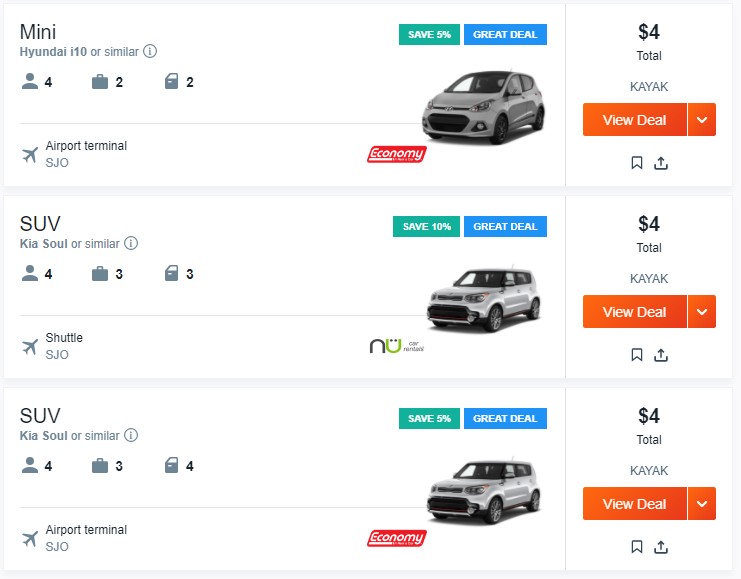 I immediately began to wonder how these rental car agencies could make money doing this. They'd be better off closing their doors and selling the cars for scrap. It occurred to me then that there must be some additional up-charges in order to make this profitable for them. As it turns out, there are some clever tricks these guys use to charge hundreds of extra dollars to these initial prices. When you book and "pre-pay" your $4 SUV reservation, they advise you of a $3.50 booking fee, which even though it costs the same as your3-day rental, is no big deal, since that still makes your rental only $8. Kayak also offer you $9/day Damage Coverage (up to $40,000), which is reasonable enough, until you realize that a full-size car like a 2018 Chrysler 300C (a model frequently available at many US Rental Car locations) starts at $41,000, and can cost more depending on the model and configuration you have. If you read some reviews and blogs online, you'll see some nightmare stories from travelers who were duped by unclear and deceptive pricing policies
Looking further into the rental terms, I came across additional "Insurance" requirements: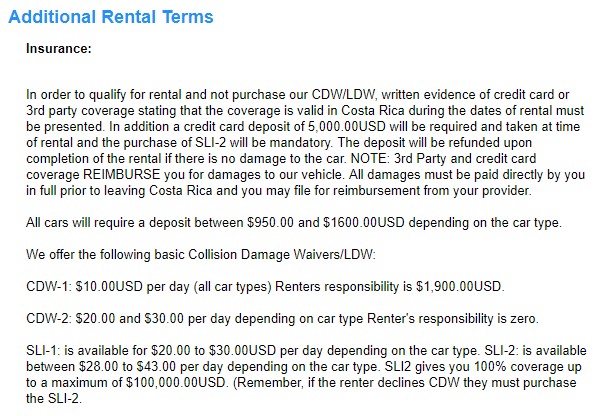 The rental agency would consider your Kayak-purchased insurance to be a 3rd party coverage, since you did not purchase the insurance through the agency. I which case you'd be on the hook for an additional $28 - $43 per DAY, in addition to your $9/day "insurance" from Kayak. This makes the cost $37 to $52 extra per day for the rental. On top of that, they'll pre-authorize your credit card for a $5000 hold for the duration of your rental. Even if you have credit lines to cover that pre-authorization, it's still a pesky add-on that may impact you on the rest of your trip.
If you chose to go entirely though the agency for insurance, you'll be glad to know that you can go as low as $30 additional dollars per day for coverage (with a $1,900 deductible for damage and unknown deductible for liability), or up to $73 additional dollars per day for full peace-of-mind coverage. This would bring the total cost of your rental up to $4 for the rental, $3.50 for the booking fee and $219 for the insurance, summing up to around $227 – a far cry from the original $4 bargain you were going to get.
So What Can I Do?
Well, as it turns out, the Costa Rican government and most rental agencies require renters be insured. This comes in two forms: first the government requires that you purchase liability insurance. This can either be called SLI, TPL, SLC or a variety of different names. This is essentially when you damage someone else's property or injure someone else. There's no real way to get around this. The second comes in the form of collision or damage coverage. This is what covers damage to the actual rental vehicle itself. Most agencies in Costa Rica will not rent you a car without either proof of coverage exceeding the MSRP of the vehicle, or purchasing their CDW/LDW. Savvy travelers will know that many a credit cards will provide this coverage, but you should call your credit card company to confirm this works in Costa Rica and ask for a letter from them explaining the coverage for the rental agency. I've been to many Latin American locations where they will accept nothing short of a letter detailing the coverage amounts, type, locations, dates and exclusions. It takes me about 5-10 minutes to call before my trip and get a copy of the letter emailed to me.
While this will save you that $9-10 per day, what about the other insurance? Well, you can rent from a more reputable agency. I rented a midsize from National for $8/day, but you can rent their lowest tier, a mini, for $4.25 per day, plus add their free weekend day coupon or a 20% off rental coupon. If you utilize your credit card's CDW/LDW, you only need to purchase their Third Party Liability for $12 per day. This brings your cost down to $56.54 for the three day rental.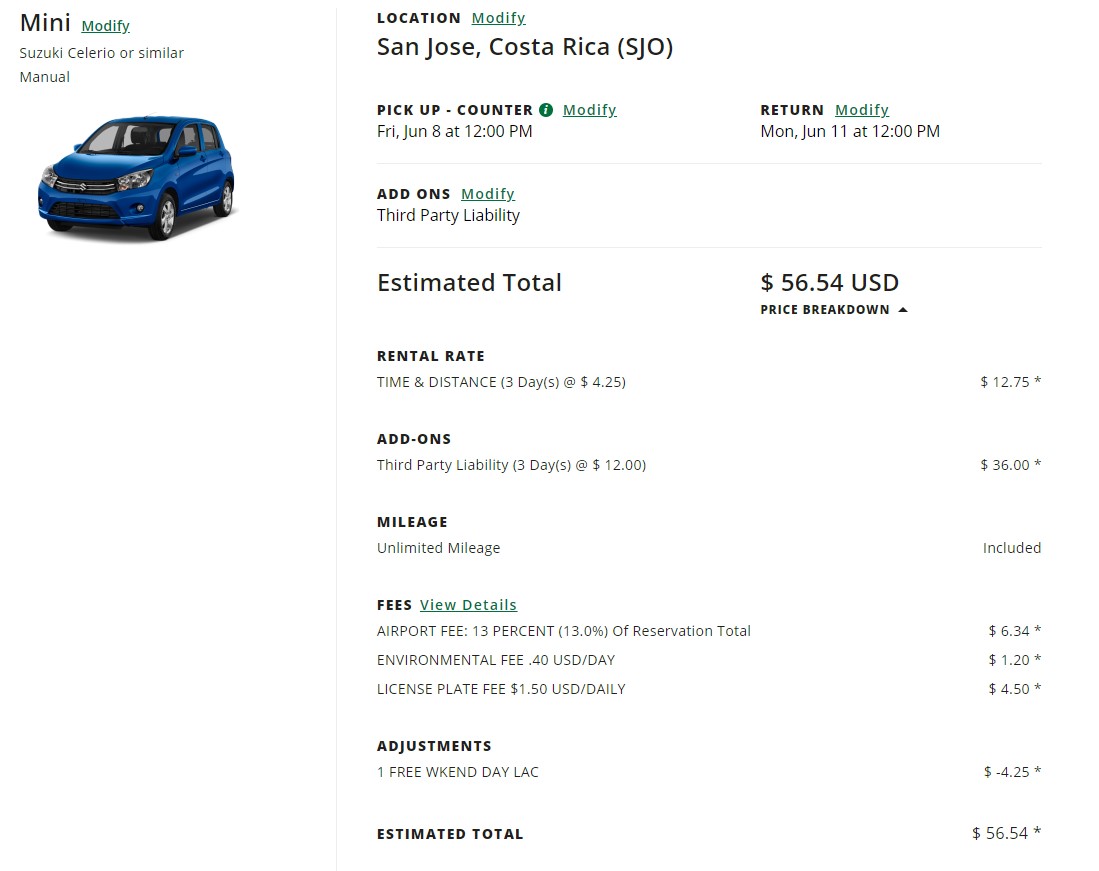 On my recent rental, due to my Executive Elite status with National's Emerald Club, I also received a complimentary upgrade to a full-size hybrid which helped me to save on gas. The agent quickly reviewed my agreement, verified that I had requested the TPL but not CDW, and upon a quick glance of the letter from my credit card, moved on to the vehicle inspection. The agent clearly explained the charges he was about to make onto my card (which included no deposit), provided some pointers on where to go, and gave me his business card with his email address should I run into any issues while in Costa Rica. The experience I was dreading turned out to be quick and painless.
After a fun-filled three days in Costa Rica, the return process was similarly quick and painless. The agent asked for the initial inspection form and rental agreement and conducted an inspection with me. After finding no new damage (using the standard National Damage Evaluator circle) during his quick walk-around, he thanked me and asked me what they could do better to ensure I was completely satisfied. He smiled and thanked me again when I told him everything was better than expected.
Ultimately, we had a blast on this trip to Costa Rica and were able to save quite a bit by doing some research in advance. You should always review the terms and conditions for a rental and any additional requirements that may be necessary. Several travel-oriented credit cards offer you CDW/LDW coverage as a Primary benefit (meaning that this coverage is used first), while on most others it is offered as a Secondary benefit (meaning the coverage supplements your own insurance). These policies are usually reverted to Primary coverage when outside the United States, and may be rendered void if you purchase CDW/LDW from the rental agency or use the vehicle in a way that breaches your rental agreement. I loved this trip to Costa Rica, and have started to plan a return trip, especially now that I know the rental car won't be an issue!